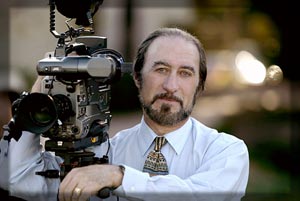 Since 1992, I have been producing, shooting and editing wedding and event videos in Arizona. Based in Phoenix, I enjoy traveling to anywhere in the state in order to cover your wedding or special event. I am a firm believer in the power of video to capture the high emotions of your wedding day, and my goal is to produce a lasting, treasured keepsake for you. I invite you to visit my "Testimonials" page for some very real thank-you letters I have received from satisfied couples.
I shoot in what can be best described as the "photo-journalistic" style of wedding video. By this, I mean that I capture the events of the day as they happen, and I allow each event to unfold naturally before my lens. I create a "document" of the day and in the editing process, create an artistic, emotionally moving video in which you will become the "stars" of the movie.
My equipment includes two, 3-chip professional digital camcorders to capture the very best quality picture, and I use wireless microphones during the ceremony in order to get the best possible sound during your vows of love and commitment to each other. Your reception footage will have true stereo sound, and the picture will be of top quality due to the excellent low-light capabilities of my cameras. The quality you will receive on your Wedding DVD will be the very best that technology has to offer.